Residential Solar Installer San Diego, CA
COVID RELIEF PROGRAM
No Energy Bill for 18 Months
Power your home entirely with solar + battery backup and don't pay a cent for 18 months.
How does it work?
We'll install solar panels & a battery backup on your home (absolutely no upfront costs).
Enjoy free energy for 18 months.
After 18 months of no payments, enjoy financing up to 30 years (monthly payments often much lower than your SDGE bill).
Not sure if solar is right for you?
REQUEST A CONSULTATION
GOOD FOR YOU, GOOD FOR THE WORLD
Why Go Solar
Why should you consume energy when Mother Nature provides it for free? We can help you harness solar energy. With our residential solar panel installation Eco Construction & Energy, you can –
Save money on your electricity bill with solar energy
Take advantages of solar energy costs in the future

Reduce your carbon footprint with solar energy
Take advantage of solar energy federal tax credits
SOLAR MAY BE MORE AFFORDABLE THAN YOU THINK
Save over 50% of your energy bill
By hiring our solar panel installation services, you can save over 50% of your energy bill depending on the type of solar solution that you choose.
OPTIMIZED FOR YOUR HOME

Get a solar system unique to your needs

Not every home is alike. Solar panels for your home will be different as compared to other customers. We will empower your home with solar power. During the initial stages, our professional technicians will analyze your roof and optimize a solar energy solution that fits your requirement the best. Whether you need a system that powers your entire home or just need one that heats your water, we have the expertise, certifications, permits and the experience you need.
---
SOLAR HOMES SELL FOR $14,329 MORE, ON AVERAGE

Increase the value of your home

It doesn't matter if you live in Del Mar, El Cajon San Marcos or other areas in San Diego. Your home will increase in value significantly after it is fitted with state of the art solar energy solutions from Eco Construction & Energy. Spare your budget from unreliable and fluctuating utility prices with solar energy.

As a solar panel installer our solutions require low maintenance and can make you capable of harnessing free energy for the long term. In this way, solar power becomes a wise investment that delivers returns for your home for years to come.

We also offer financing options for families or homeowners on a budget. Whether you choose one of our financing options or purchase directly, you are guaranteed superior and affordable energy output if you rely on us; one of the best solar companies in San Diego.
Everyone Can Afford Home Solar Power!
Think of buying home solar like buying a car. You can buy and own the panels or simply pay for the power the
home solar power system produces.
OPTION #1

Buy The Panels

When you buy the panels outright you get all the benefits of ownership. It's easy to transfer the panels to a new home owner if you sell the home. If you financed the purchase, the electricity is essentially free after the loan is paid off.

OPTION #2

Buy The Electricity

When leasing the panels you don't own them, you just buy the electricity they produce at locked in rate for 20 years.
The leasing company will take care of any maintenance and support issues the life of the system.
Over its lifetime, your home solar power system will avoid 162 tons of air pollution. That's equivalent of:
30

Cars Taken Off The Road

16476

Gallon of Gas Saved
Did you know?
Your Utility emit 1.5 lbs of air pollution for each 1 kWh of electricity it makes. That's 45 lbs per hour for the average home.
Take Real Action. Fight Climate Change. Save Money.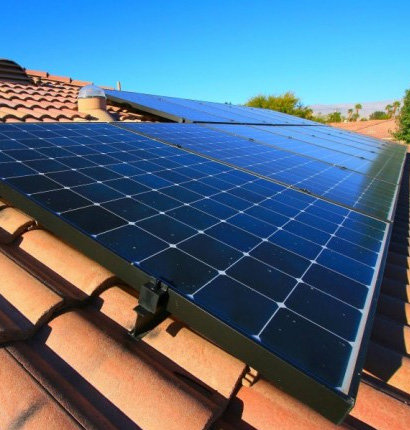 HOW IT WORKS
Go solar in three, easy steps:
First

We custom design a system that optimizes performance for your roof.

Second

We connect you to the utility grid, turn on the system, and you start generating your own clean energy!

Finally

Any excess electricity your system makes is sold back to the utility, and you get the credit on your bill.
Ready to get started?
REQUEST A CONSULTATION
SOLAR TAX INFORMATION
Get a 26% Solar Tax Credit
Investment Tax Credit (ITC)
Download your IRS Form 5695 below so you can file it with your taxes.
Please contact your accountant if you have any specific questions regarding claiming your Solar Investment Tax Credit.
Residential Investment Credit – IRS Form 5695
DOWNLOAD NOW
REQUEST A CONSULTATION
Fill out the form below and we will contact you to further evaluate your needs.
Why Eco Construction & Energy
We run a courteous and professional service. Our experts take the requirements of our customers seriously.
At Eco Construction & Energy, our aim is to provide residents in San Diego with the best value by providing them with photovoltaic systems that suit their requirements. All of our solar energy products come with extended warranties to ensure that they last each client a lifetime. Contact us for a free consultation.